In the last 2 years, various Android apps have been created. Some weren't finished. Too much work to finish an app, lost interest or technical difficulties were such reasons. The following apps have made it to the Google Play: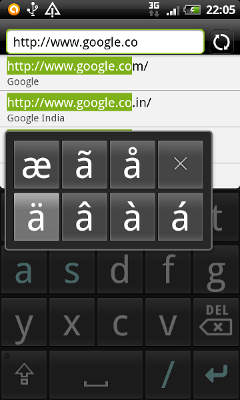 A keyboard with extra large keys. Only one half of the keyboard is displayed, the second half can be reached via gestures.
Large keys → if keys of the standard keyboard are to small / narrow to each other
High contrast → for operation in high ambient light conditions
Fast writing → using smart word completion
Simple → Easy to operate
The main functions:
Switching between keyboard halves by horizontal swipe
Switching between alphabetic keyboard and symbols / numbers by upward wiping
Keyboard closes by wiping downward
Word completion (self learning, language independant): Short press on word will write this word into the editor, long press starts management dialog
Access additional letters / symbols by long pressing the blue marked keys
Access smileys (emoticons) by long pressing the yellow marked keys
Menu accessible by long pressing the Enter key
Key click (choose between 5 tones  and / or vibrator)
Available in the following languages:

العربية, беларускі, български, čeština, Dansk, Deutsch, Ελληνικά, English, español, Eesti, Persian, suomi, français, hrvatski, magyar, íslenska, italiano, עברית, Kirghiz, Lietuvių, Latviešu, македонски, Nederlands, norsk, polski,română, русский, Slovenčina, Slovenščina, Српски, svenska, ไทย, Türkçe, українська
15-puzzle (also called "Schiebe-Puzzle" in german) is a very simple game. The objective is to bring the figures in the right order by pushing.

The app looks like the original toy, which was available as 4x4 and 4x8 years ago.
Depending on the size / resolution of the device this app runs on there are various sizes of the puzzle available. On 10" tablets the maximum size is 8x12 (195-Puzzle)
To move the figures use sliding gestures. Or just touch the figure to be moved for faster solving
Sliding sound (on / off)
Available in english and german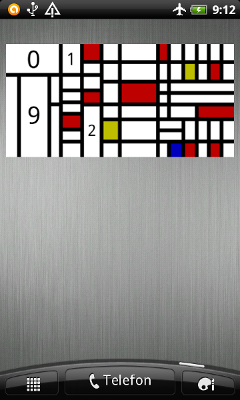 Mondrian Widget Clock at Google Play
This is a widget clock which gives your phone a modern look
Each day you get a new Mondrian. If you're not happy with the daily Mondrian, go to the settings and tap on the preview until you get a suitable Mondrian
Each minute the colorization changes. A black box stands for 10 hours, a red box for 1 hour, a blue box for 10 minutes and yellow box for 1 minute. You get the actual time by adding the value of all boxes
Optionally show time as plain text as well (each number of the time (and am/pm in case of 12h mode) will be shown in a separate box. Reading is strictly from left to right, no matter in which row the number is placed
Time in 24h / 12h mode
The actual Mondrian can be saved to the SD-Card. Also a preview is shown
On android 4.2 and later the widget can placed on the lock screen too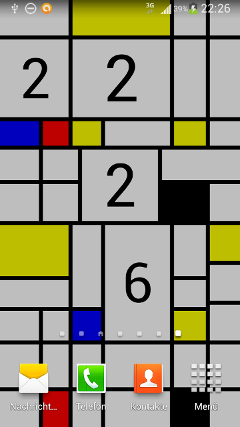 Mondrian Wallpaper Clock at Google Play
This is a live wallpaper clock which give your phone a modern look
Each day you get a new Mondrian. If you're not happy with the daily Mondrian, go to the settings and tap on the preview until you get a suitable Mondrian
Each minute the colorization changes. A black box stands for 10 hours, a red box for 1 hour, a blue box for 10 minutes and yellow box for 1 minute. You get the actual time by adding the value of all boxes
Optionally show time as plain text as well (each number of the time (and am/pm in case of 12h mode) will be shown in a separate box. Reading is strictly from left to right, no matter in which row the number is placed
Time in 24h / 12h mode
The actual Mondrian can be saved to the SD-Card. Also a preview is shown